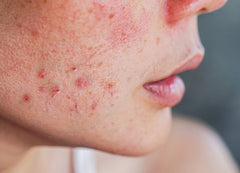 Banish blemishes and breakouts and reveal clear, even skin,
whether you're living with small spots or full flare-ups.

Many products on the market for acne-prone skin are harsh,
stripping skin of healthy oils, leaving it irritated and even
more prone to breakouts.

At Garden of Wisdom, we do things differently. Our collection for blemish-prone skin works synergistically to restore skin's natural harmony and balance to rid your skin of pimples, blackheads, blemishes naturally, and breakouts, without clogging pores.

Our products are carefully crafted to tackle acne head-on, sweep away the buildup that can cause breakouts, and improve the appearance of discoloration, scar depth and size, and tone.

Clear, healthy skin is waiting in nature's Garden of Wisdom.

Still not sure? Check out our carefully curated Skin Care Kits HERE

Garden of Wisdom's Uncork My Pores Cabernet Mask with Mandelic Acid 8% contains Cabernet Wine and mandelic acid....