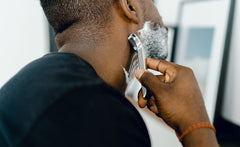 The natural shaving products at Garden of Wisdom work to nourish, protect and sooth your skin. Our hand-picked ingredients are not only gentle to keep irritation at bay, they also help to enhance your skin's health, preventing the tugging, pulling and scraping that leaves skin red and inflamed and leads to razor bumps, cuts, and scrapes. At Garden of Wisdom, we believe that everything your skin needs can be found in nature's garden. That's why all of our shaving creams and after shave gels are always free of sulfates, parabens, phthalates, petrochemicals, mineral oils, synthetic fragrances, and dyes. Every use helps to prevent razor burn, while leaving your skin touch-ably smooth. It's about a safe, comfortable shave and loving your skin.
Garden of Wisdom's Shaving Cream is loaded with ingredients to soothe, deter hair growth, moisturize, condition and gently exfoliate....
Aloe helps to heal and soothe inflamed skin, while other natural ingredients moisturize and hydrate. It leaves the...