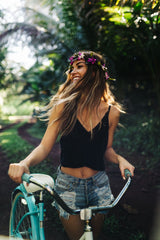 Pamper Your Body, Nourish and Moisturize Your Skin Naturally
At Garden of Wisdom, we're known for our all natural, hand blended skincare and our body cream collection has been lovingly crafted to continue that tradition and pamper your body from head to toe.
From our natural deodorants and self-tanners to our kissably soft lip plumper and ultra-hydrating hand and foot cream, you'll feel replenished and renewed all over.
Choose a Garden of Wisdom natural body wash, scrub and moisturizer to care for your body using the ingredients from nature's garden.