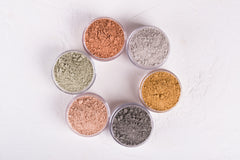 To use our clays, mix them with your favorite hydrosols, aloe juice, water, milk, yoghurt or honey! You can use almost any liquid you can think of. You can create your mask thick or thin, depending on the consistency you like.
Oily Skin - Leave on 5-10 minutes.
Dry Skin - Leave on no more than 3 minutes.
Sensitive Skin - Leave on only a minute or two and see how your skin feels. You don't want your skin to feel tight, itchy or uncomfortable at all.