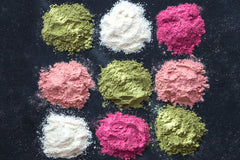 Garden of Wisdom's Fruit Powders are derived from dehydrated fruits that have been ground into a fine powder form. These powders retain the concentrated flavors, nutrients, and sometimes even the color of the original fruits. Fruit powders are versatile ingredients used in various culinary, cosmetic, and topical applications. Here are some thoughts about fruit powders:
Fruit powders are often included in skincare products such as masks, scrubs, cleansers, and serums. They can provide exfoliation, hydration, and nourishment to the skin.

The slightly abrasive texture of some fruit powders makes them excellent natural exfoliants. They help remove dead skin cells and promote smoother, brighter skin.
Certain fruit powders, like strawberry or beetroot powder, can be used to add natural coloring to skincare products without the need for artificial dyes.
The antioxidants found in many fruits can help protect the skin from damage caused by free radicals, thus contributing to anti-aging effects.